I started out not knowing too much of Herman Blum.  In fact, I thought his name was Henry.  But an intrepid reader not only figured out that 4651 Leiper Street's given name is Blumhaven, but they also turned up more interesting information on him and his house.
We aren't the only ones interested in Herman Blum and Blumhaven.  Karen Stevens, an archivist with Independence National Historical Park asked a question about "the Blumhaven Library in the Frankford section of Philadelphia" on Temple's Delaware Valley Archivist Group last December 2007.  Now I don't know a whole lot of about Frankford's history but I have a good grasp on where all the brick and mortar stuff is and was, and there's no Blumhaven Library.  But it turns out the Historical Society of Frankford's own archivist, Jack McCarthey, knew what was what.  He told Ms Stevens:
The Blumhaven Library no longer exists. It was Herman Blum's rare book and
manuscript collection, which was donated to the PHMC and is now Manuscript
Group MG-169 at the PA State Archives. Herman Blum was a textile executive
and manuscript collector who lived in Frankford. The Library was in his
house which still stands.
I found a listing of the documents he turned over, it's pretty impressive.  He had property deeds signed by William Penn himself.  Blum himself corresponded with Pierre DuPont.  He's got James Buchanan writing to all sorts of people, Stephen Girard, and a bunch of other guys that end up in Wikipedia, he had original deeds signed by William Penn.  All of this stuff in what had to have been one mean looking library in that house.
So how'd he earn that house money?  Mr Blum(1885 – 1973) who lived some 88 years, bought his jacquard mill, located in Kensington at  1806 Venango Street, in 1923.  He turned it into Craftex Mills.  Suprisingly, Craftex still exists, and it looks like he still has descendants on the payroll with Robert and Terry Blum listed as executives with the company.  The mill has since moved from Kensington but the building still exists according to WorkshopOfTheWorld.com which has the whole story of it's operation.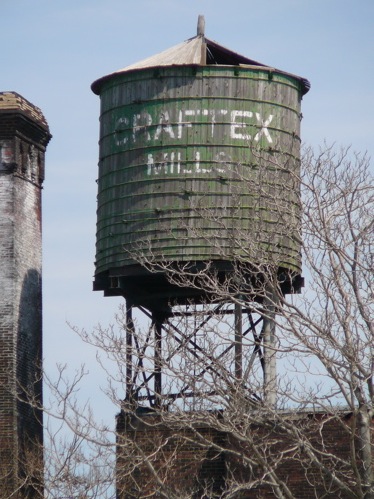 Mr Blum seemed to leave quite a legacy to his profession, and I might say was a little bit of Renaissance man.  He was a trustee of the Philadelphia College of Textiles and Sciences.  He wrote the three books about looms and textiles.  And just for good measure he banged another book out about William Penn with information he gleamed from his private library collection.  He must have been a riot at parties.
[link] Craftex Mills entry at Workshop of the World
[link] Books By Herman Bloom at Library Thing
[link] Blumhaven library's collection list at the state archives
---
The information in this post was compiled with the help of Debbie Klak, current member and former president of the Historical Society of Frankford.  Sources include the archives of the historical society and her recollections.

HSF collects, preserves and presents the history of Northeast Philadelphia and the region. Recognizing the neighborhood of Frankford as the historic and geographic gateway to the region, HSF documents and interprets the history of the people, places, events and traditions of the greater Northeast Philadelphia area and serves as an advocate for the preservation of the region's historic resources. Through its collections and programs HSF provides opportunities for its members, the surrounding community, and the general public to explore and appreciate the history of Northeast Philadelphia and its place in the world. Check out other posts in our series here.