OK, you may wonder what possessed us to take on a book review.  Well the story is that the author, Felix Cruz, is a local guy (no not Frankford but one of those neighborhoods to the North) and he contacted me a few months ago.  We emailed back and forth.  I do enjoy stories about Frankford.  This story does in fact wander in and out and about the neighborhood so it fits right in to our mission here.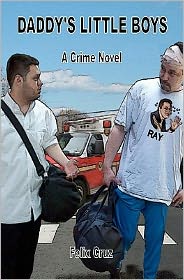 Daddy's Little Boys by Felix Cruz is a both funny and deadly.  There is a lot going on and if you enjoy plots where you can't see what's coming around the next corner, then this story is for you.  Two brothers, Paul and Eddie Flores find their father has died suddenly.  They also find out more than they ever wanted to know about him.  They are trapped into a hunt for missing money and that hunt brings them to a better understanding of their father and ultimately themselves.
The characters in the book are right out of the streets of Philadelphia covered in grit and a fair amount of profanity.  There is no ethnic group untouched.  The heroes are unlikely heroes at best.  Felix has obviously traveled the streets of the city quite a bit.
When the boys over at the Frankford Film Office read this they are going to want to get it made.
You can get the book on Amazon and Barnes & Noble.  I enjoyed the Kindle edition on the iPad.