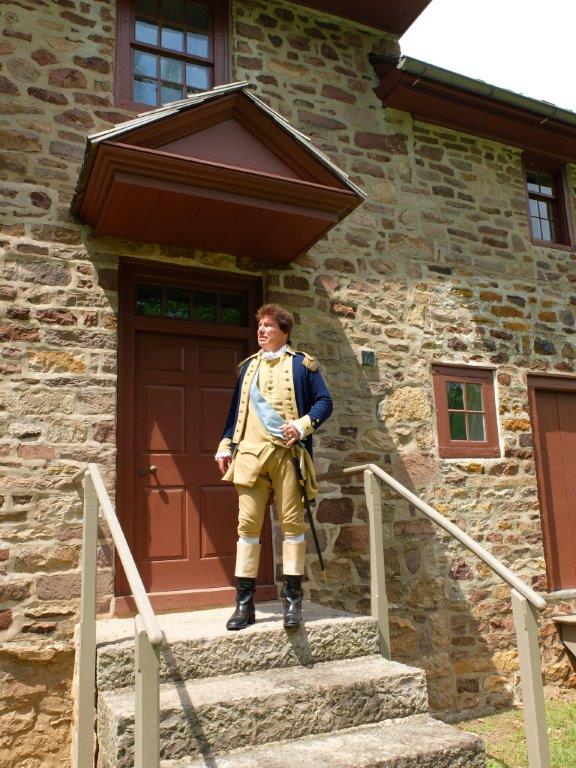 There is an Historical Society of Frankford Fundraiser Field Trip to the Moland House this Sunday (August 30th).  Our guide will be Nancy Crowther, who presented the program at the Society in June.  She is a descendant from the family that owned one of Frankford's last inns – the Seven Stars Hotel located at Frankford Avenue and Oxford Pike that served as a watering hole for both humans and animals.
Nancy is a Moland House Docent/Guide as well as a member of the Bucks County Chapter Daughters of the American Revolution.   Folks can RSVP to me cameo1200@gmail.com) if they are planning to meet at HSF at 2:00pm this Sunday to car pool – or they can meet us at the Moland House (1641 Old York Rd, Hartsville, PA 18974 – 215-918-1754) at 3:00pm.  It is about a 45 minute drive on 95 from Frankford.
From the Moland House website: The Encampment – On July 31st, 1777, the Continental Army was marching on its way from New Jersey to Philadelphia.  General Greene decided that the area around the Moland House was a good place to camp for the night.  The Army was off to Philadelphia the next day.  While camping at the "Falls of the Schuylkill" the decision was made to march to New York.  On Sunday, the 10th of August, word was received that a large British fleet had been sited off of Delaware Bay.  Again, the Continental Army was near the Moland House and decided to camp in the area.  Moland House became Washington's Headquarters.  Waiting for more word of the fleet, the Army stayed at Moland until 3:00 am on Saturday, August 23rd.  During that stay, the Marquis de Lafayettecame to join Washington's army, as a Major General.  Count Casimir Pulaski met Washington for the first time, at Moland.  Later, in September, Count Pulaski also joined the Army, as a General, and the U.S. Cavalry was then borne.  A Council of War was conducted on August 21st that included thirteen men of note from the history of our nation.  Every year, during the time of the Neshaminy encampment, theWarwick Township Historical Society conducts a reenactment that includes the Pennsylvania 5th and many artisans demonstrating life in Colonial times, to the attending public.